When hiring a web developer in Canada, figuring out the costs is one of the most important decision-making points. There are some factors that determine the price of web development in Canada, and while some options may seem expensive, they could save you time and money in the long run.
In this article, we will answer the following questions to help American companies hire skilled web development specialists in Canada:
how many web developers are there in Canada;
their top skills and average salaries and hourly rates;
why hire Canadian web developers;
how to get new hires in Canada.
Let's walk through each of these topics in detail.
1. How Many Web Developers Are There in Canada?
According to the latest statistics at jobbank.gc.ca, Canada hosts more than 19,000 professional web development and design specialists with a year-over-year growth of 5%. While it's true that this number is lower than the number of web developers in the United States, it's still significant, especially if you consider the lower cost of living in Canada and the lower salaries.
Canadian Occupational Projections System (ESDC) recently updated their comprehensive survey about the current state of the web development and design jobs market throughout Canada. As of August, 2022, research shows that in terms of web developer demand, out of the 13 provinces and territories, 6 are doing well, 3 are performing fairly well, and and 4 are undetermined.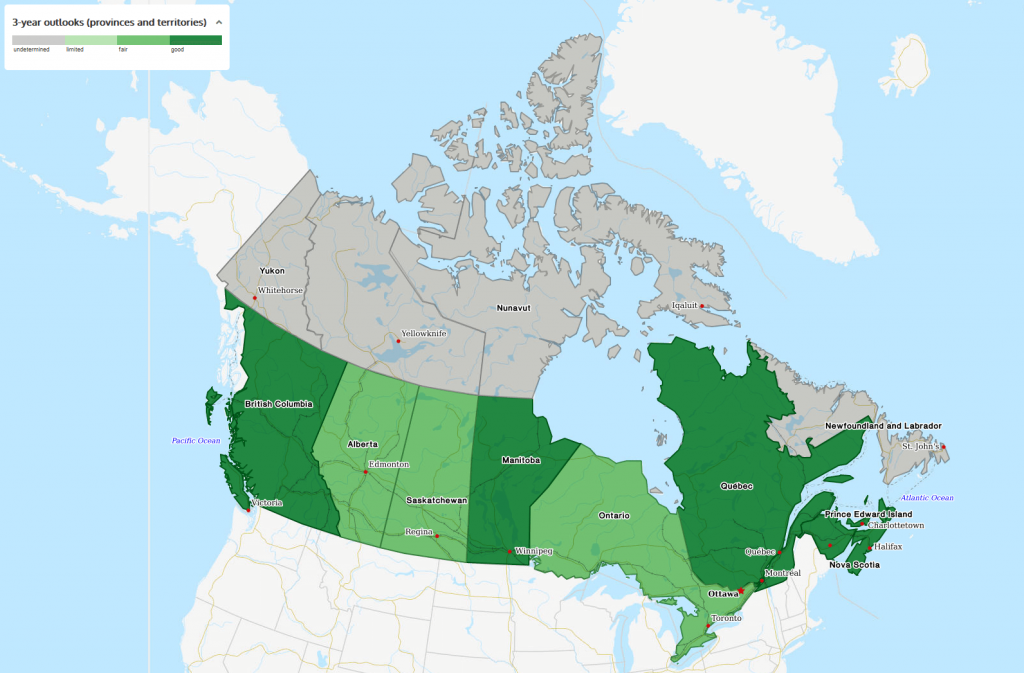 The demand for web development services in Canada is high enough so you don't have to go far to find good web development talent. American companies should take advantage of this market and consider hiring Canadian web developers.
2) Top Skills and Pays of Web Developers in Canada
Most companies hiring for web developers want them to have a strong background in mainstream programming languages such as Java, PHP, C#, Scala and Python. Besides, they want them to have in-depth knowledge of JavaScript frameworks such as Angular.js and React.js.
Companies looking to hire freelance web developers often take advantage of the popularity of these JavaScript frameworks to cut on development time and cost. When hiring a web developer in Canada, it is best to look for someone with at least 2 years of experience with these frameworks as this can help reduce the overall cost by half.
Good Web Developer Skills
Below we grouped the skills of a good web developer by these 7 categories:
Single-page application (SPA) development, including these JavaScript frameworks: Ember.js, Angular.js, React.js, BackBone.js, Vue.js.
UI and front-end development, including CSS and HTML, JavaScript, Bootstrap and more.
Database design and management (relational and NoSQL databases), including MySQL, PostgreSQL, MongoDB, Redis, Elasticsearch, OrientDB, Cassandra, and more.
Web server management and configuration. This includes Apache, IIS, Lighttpd, F5 Nginx, Oracle WebLogic, WildFly, Plesk, and other server technologies.
Server-side and back-end development with PHP, Java, Python, C#, Node.js or Ruby programming languages.
CMS development and API integrations, including these platforms: WordPress, Drupal, TYPO3, Shopify, Magento, Wix, Joomla.
Security (malware and spam protection), including SSL certificates, firewall configuration and web penetration (application) testing.
Web Developer Salary and Hourly Rate
The annual income for a full-time web developer in Canada is approximately $73,000. This is only a partial amount of the total annual salary in Canada because not all developers are in this field and the average wage is mandatory. However, it offers a good starting point for you to see how much should you budget for your next web developer hire.
When it comes to freelance web development in Canada, the average rate per hour is about $35-$40 for junior titles and about $75-$95 for middle and senior developer roles.
The average pays for web developers in Canada across five sources (CAD, as of August, 2022)
| | | | |
| --- | --- | --- | --- |
| # | Source | Average Annual Salary | Average Rate per Hour |
| 1 | Job Bank | $81,120 | $40 |
| 2 | Indeed Canada | $94,563 | $45 |
| 3 | Glassdoor Canada | $79,343 | $38 |
| 4 | PayScale | $100,100 | $51 |
| 5 | ZipRecruiter | $107,419 | $53 |
| | Average total pay | $95,356 | $47 |
As it comes from the table above, the average estimated salary of a full-time web developer in Canada is $95,356 CAD, and the average hourly rate of a freelance web developer is $47 CAD per hour. We calculated this data using top-5 job search portals: jobbank.gc.ca, ca.indeed.com, glassdoor.ca, payscale.com, and ziprecruiter.com.
3) Why Hire Canadian Web Developers
While the cost of outsourcing software development nearshore is almost always lower than hiring locally in the United States, there are other reasons why it makes sense to hire a Canadian web dev specialist instead of an American one.
Education
In addition to being one of the most educated countries in the world, Canada has a large number of web developers and designers. According to a study conducted by UNESCO, Canada is among 10 of the most educated countries in the world.
With this high level of education, it should come as no surprise that web development is one of the leading fields with 10,900 new job seekers in 2019 and 14,000 ones in 2028 (forecast) in Canada. The highest concentration of full-stack developers can be found in Toronto and Vancouver. Both cities have a vibrant startup community that attracts many foreign workers.
Time Zone Compatibility
If you are an American businessman, you know that working with partners in other time zones can be challenging. Time zones are a big part of the trust relationship, so it's very important to find skilled developers with compatible time zones.
US companies outsourcing to Canada and Mexico have much better access to developers who live in their local time zone than companies outsourcing IT services to India or other countries. This is why they prefer to hire Canadian developers over American ones.
Like-minded People
Canada is a country rich in culture, diverse, and welcoming. Canadian cities like Vancouver, Toronto and Montreal have a thriving tech community. If you're looking for new IT talent for your American business, you will find people with similar interests and priorities whatever the size of your company.
The cultural proximity also means that there are no language and mental barriers between you and your Canadian web development team. As a result, communication is much more efficient.
Cost Savings
Many American companies find that Canadian development talent is cheaper than their counterparts from the U.S. The cost of living in Canada is lower than in the US. This is especially true for web development talent, which is one of the most expensive.
In most cases, U.S. companies are paying between $45 and $95 USD per hour for their web development contractors working on a remote basis in Canada. The hourly rates of American developers range between $55 - $125 USD. With these numbers in mind, you can save 15-20% of IT budget if hiring Canadian web developers.
It's an Investment
If your firm is based in the U.S. and you hire a Canadian web developer, then the professional relationship that you forge with that person will have long term benefits.
Over the course of time, if things go well and you have a good working relationship with your Canadian programmer, it will result in a cost saving across all future projects together. If you hire a Canadian engineer from Toronto or Vancouver and you continue to work together for the next few years, then you are going to spend less money than if you had hired an American web developer who lives in New York or San Francisco, for example.
4. How to Get New Tech Hires in Canada
Hiring new web development specialists in Canada can be a tedious and time-consuming procedure that requires you to go through a lot of resumes and candidate profiles. You will want to approach this process just as you would with any other hiring decisions, because missing out on a good front-end developer can cause your business serious difficulties down the road. Fortunately, you get these tips that will help you get started.
Determine if you want to hire a freelance web developer or a permanent employee
If you are looking for a freelancer programmer, make sure to sign a contract and clearly define the terms and conditions. If you want to hire a full- or part-time employee, on the other hand, make sure your company offers a competitive salary and benefits. Doing either of these things will show that your business is serious about the job and how much it values the candidate's work.
Post your job opening on relevant sites
There are a number of local and international websites that specialize in job search and posting. Many web developers will be looking at those sites and will be more than happy to apply for a position.
Here below are top-11 portals to search web developer candidates across 13 provinces and territories in Canada. You should consider adding your web engineer job posting to each of them.
Jobillico
Indeed Canada
LinkedIn Jobs
Monster Canada
Eluta.ca
Jobboom
Glassdoor Canada
Jobbank
Talent Egg
CareerBuilder Canada
ITJobs.ca
Ask candidates if they've ever worked for U.S. employers
Asking candidates if they are familiar with the American market is a very important question to raise, because it shows you how well their mindset and language skills will match both your business and your IT team. An ideal candidate would know U.S. companies, their corporate styles and working approaches.
However, if a candidate has not worked for a US-based company, it doesn't mean that he or she is inferior. It simply means that you need to be extra-critical when checking out his or her portfolio and background.
Check the candidate's portfolio or recent works
It is important to check out how a candidate's portfolio and recent works will fit in and complement your business. This means that you need to spend some time to go over the portfolio and see how the applicant approached each of the projects.
If a candidate presents only his or her own works, you can be safe in assuming that they are either self-taught (lacks basic skills) or that they lack the experience to take on complex tasks.
Consider partnering with a local IT talent provider
If you are serious about looking for talented web developers in Canada, partnering with a local IT talent provider like Intersog will be beneficial to you. By entering into such an agreement, your business will have access to top-notch web development talent whenever you need them.
Feel free to contact our local delivery team in Canada to learn more.
Do not take tech hiring lightly
The tech industry is experiencing a considerable shortage in skilled talent and it is projected to get worse in the upcoming years. This means that if you have any technical vacancies, you need to act quickly and find candidates who can make good use of your IT infrastructure.
Take hiring seriously from the start. It is not enough to advertise your job opening on LinkedIn and post it on Indeed's website. It takes programming skills, industry experience and an abundance of patience to choose the right candidate for your company.
After all, hiring a new full-stack developer is a big deal that can bring you some of the best business results in the few years ahead.
5) Wrapping up
For companies doing business in the United States while maintaining Canadian-based IT, the task of recruiting talented Canadian developers is not easy. There are a number of things that you need to take into account to be successful in finding a front- or back-end web developer who will be cost effective and can provide you with high-quality work on a regular basis.
Key takeaways:
Canadian developers are skilled and can utilize the latest web development technologies
There are at least four reasons to hire web developers in Canada
You can save up to 20% of your IT budgets thanks to get hires from Canada
You should take the hiring process seriously and partner with a local IT consulting vendor in order to succeed in finding the right people for your website project.